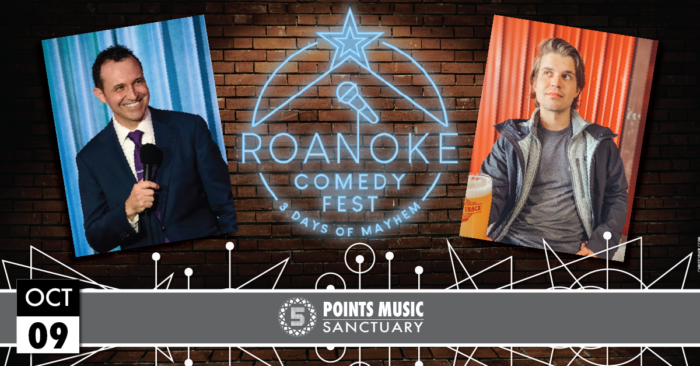 SATURDAY, OCTOBER 9
Roanoke Comedy Fest: Tony Deyo + Improv w. Johnny Camacho
With 2 albums, late night TV credits, and some of America's best comedy clubs under his belt, Tony Deyo is set to headline Saturday night of the Roanoke Comedy Fest. For one night only, Comedy Fest executive producer, Johnny Camacho, is hand-picking some of his favorite actors and comics to showcase the art of long-form improvisation.
TICKETS ON SALE NOW


SATURDAY, OCTOBER 30
Dead Reckoning Halloween
Get ready to throw down at our annual Halloween Costume Party featuring only the best tricks and treats from The Dead Reckoning – purveyors of Grateful Dead delights. As always, prizes will be awarded for best costumes and creepiest characters so show us what you got!
TICKETS ON SALE NOW


SUNDAY, OCTOBER 31
Tales from the Stripped: Halloween Burlesque Bash
Out of Body Burlesque makes it's long awaited return to the 5 Points stage and you won't want to miss it. Join your favorite strange & unusual babes in a celebration of glitter, gore, shimmies and more! This will be a Halloween bash for the books including costume contests, raffles, tricks, treats and all new mind-blowing routines!
TICKETS ON SALE NOW


THURSDAY, NOVEMBER 4
lespecial
Take a trip through the fantastical genre-bending world of lespecial as they make their 5 Points Music Sanctuary debut. lespecial carve their own sonic path in modern music, creating their signature blend of "heavy future groove." Veering from hip-hop to metal, prog to house, pensive indie-rock to apocalyptic dub, leaving room for head banging and hip swaying alike, while still presenting a unified sound and vision.
TICKETS ON SALE: Tuesday, July 27 at 10:00am


THURSDAY, NOVEMBER 11
Pink Talking Fish
Pink Talking Fish is a Hybrid Tribute Fusion Act that takes the music from three of the world's most beloved bands and creates a special treat for fans of the music. The epic emotion of Pink Floyd…. The funky, danceable layerings of Talking Heads…. The multitude of styles, unique compositional structures and pure fun of Phish…. to merge these three into one gives music lovers a special experience.
TICKETS ON SALE TO GENERAL PUBLIC: Monday, July 26 at 10:00am


FRIDAY, NOVEMBER 12
Marcus Rezak's Shred Is Dead
After a firecracker performance to kick off July, we've snagged Shred Is Dead back into to The Sanctuary where they belong. Led by guitarist Marcus Rezak with an all-star group of musicians from across the universe, Shred Is Dead deliver progressive instrumental and vocal performances of The Grateful Dead & Jerry Garcia Band, harvesting a pure blend of inspirational jams and fierce rock n roll.
TICKETS ON SALE NOW


FRIDAY, NOVEMBER 26
Jared Stout Band
The Jared Stout Band brings the beat of the mountains to the rhythm of your everyday blues. They set the stage with high energy, emotive songwriting and well rounded performances. Rocking a versatile sound of Appalachian Rhythm and Blues, The Jared Stout Band is ready to take the stage and own it.
TICKETS COMING SOON